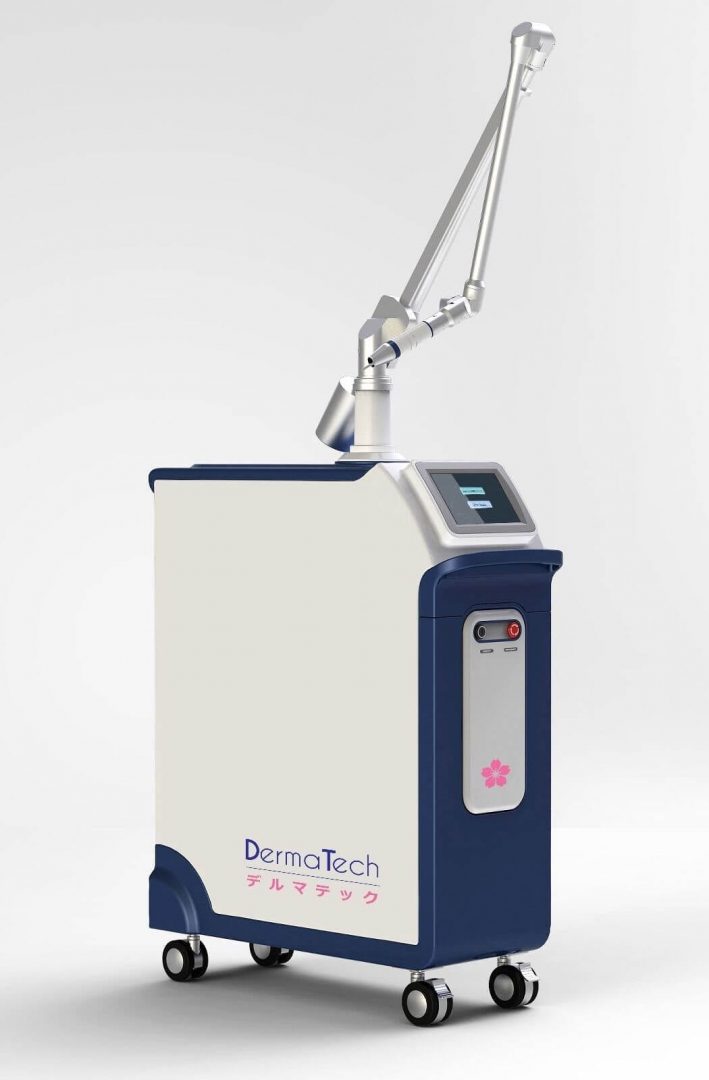 Purchase a DermaTech Sakura Laser
This purchase of our laser includes a full training at your/ our premises with a registered health care scientist / training manager to achieve essential certificates and qualifications to run the business: core of knowledge, laser training certificates and manufacturer training. We also provide aftercare and continues support.
The laser description:
•   electro-optical active state laser
•   q-switched ND YAG
•   flat-top beam technology
•   double rod system
•   double lamp system
•   full manual, user guide and clinical guide
•   1064 and 532 wavelengths
•   6-8nm pulse duration
•   2 pairs of glasses
•   CE certification
The laser has a guaranteed minimum 10,000,000 shots. When the laser gets weaker, lamps will need replacing. This laser has double rods, which makes this laser different from others and extra strong.
Price per lamp: prices are dependent (these last between 3-4 years heavy use)
Water filter: £85 (needs changing every 6 months)
*the prices are dependent on the foreign currency exchange and can change
The laser has the same qualities as Medlite C6 laser (60,000 USD) which includes the built in flat top beam technology that enables this laser to deliver excellent results in a few treatments. It also has no requirement for calibration which saves a lot of money as there is no need for regular visits from an engineer.
The laser not only treats tattoos but also delivers skin collagen remodelling through black doll and white doll facials, with a RRP of £125 per treatment. These facial treatments restructure the skin without any dramatic down time.
Purchasing our Laser has a distinctive advantage
There are 2 types of laser which can be used for laser tattoo removal. A 'passive' laser and an 'active' laser tattoo removal system.
Laser tattoo removal using a passive laser: these are on the cheaper end of the laser tattoo equipment scale and as such tend to be purchased by tattoo parlours or beauty salons. Those lasers are small portable lasers, some of them are not CE certified and dangerous.
Disadvantages: laser tattoo removal using a passive laser will not remove the tattoo completely, it will only partially fade it. A beauty clinic or tattoo parlour may take advantage of the fact that you, the consumer do not know the difference between an active or passive laser and may well charge you the same price you would expect to pay for a medical grade active Q-switched laser. Always look for authentic photos of fully, not partially removed tattoos.
With regard to an 'active' laser; Advantages: Laser tattoo removal using an Active Q-Switched (AQS) laser is considered the gold standard treatment by dermatologists for effectively removing almost all tattoo colours with a minimal risk of scarring. An Active Q-Switched tattoo removal laser will, in most cases, remove all traces of the tattoo. Because it requires several treatments, it is also possible to simply fade a tattoo if this is the desired effect. Unless you are prone to scarring anyway (e.g. keloid scarring) there is very little risk of any scarring if the skin is allowed to heal properly and the appropriate aftercare advice is followed.
Our laser delivers high energy light pulses which are absorbed by the tattoo, breaking it into small particles, which are then removed by the body's immune system. Tattoo removal performed with ACTIVE, ELECTO-OPTICAL, Q-SWITCHED ND YAG LASER is the most gentle way of tattoo removal yet, unlike the other methods such as dermabrasion (sanding of the area), invasive incision or skin grafting, which cause a lot of trauma and scar tissue. Our fully qualified and experienced technicians deliver visible results even after the first treatment.
Please note some companies offer training including portable passive lasers for much lower price, usually that is due to the low purchase cost of the laser and consequently low quality. Those are usually purchased for around £500 and the rest is the cost of training.