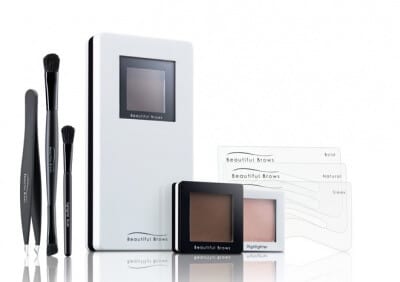 Beautiful Brows All Day
Our unique Beautiful Brows highly concentrated mineral-in-pigment powder is smudge-proof, sweat proof, water resistant and designed to withstand the rigours of a full day.
New Refillable Compact
Introducing our brand new Beautiful Brows System. All your eyebrow essentials immaculately presented in an exclusive mirrored refillable compact. As well as our trademark powders and stencil shapes we are introducing highlighter, highlighter brush, soft grip tweezers and new duo applicator brush. Beautiful Brows System Our exclusive compact is completely unique. Not only can you insert refills of your favourite shade you can also easily remove them to fit in the tiniest purse, pocket or bag! And everything contained in our set can be bought as separates too!
A Few Simple Steps
Wearing perfectly shaped, arched eyebrows is no longer exclusive to celebrities with their teams of make-up artists, nor does it involve weeks of expensive treatments. Simply choose Beautiful Brows, pick a stencil shape, hold over the eye and in just two swipes of a brush anyone can achieve perfect eyebrows. If you use Beautiful Brows every day it will last you up to two years.
Have you got a question? Are you interested in a treatment?
Contact Forever Clinic Cheltenham today for more info or a consultation.
Pay a deposit to secure your treatment
For your convenience you can make a deposit payment to secure your booking, simply and easily through the website.