Deep Hydrating Facial Cheltenham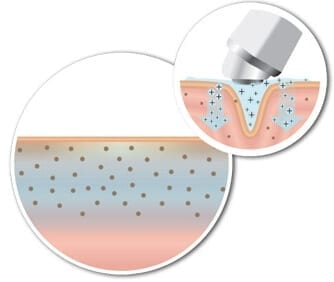 Our face lifting device uses 3 technologies- micro-vibration, infrared light and iontophoresis. We use galvanic current to channel the serums through the natural skin barrier up into the deeper skin regions, where the aging processes of the skin takes place and conventional cosmetics cannot reach. This facial is designed to give regenerating, smoothing and anti-ageing effects.
1. Cleaning & Detoxification
At first, the skin is being deeply cleansed and detoxified, only now the skin is receptive for the inflow of active ingredients into the deeper skin layers. Those special ingredients effectively dissolve harmful contaminants deep in the skin pores.
2. Nourishing & Smoothing
Once the skin is optimally receptive, the anti-aging ingredients of the Rejuvenating supreme serum are being channelled with the Bionic Lifter into the deeper skin layers. This stimulates the division of cells and has the following effects: the skin becomes more elastic thanks to the production of natural elastin and collagen being re-activated. Moreover, the skin receives more moisture, as deeply introduced hyaluronic acid can bind up to 1000 times of its own weight in moisture. The skin looks youthfully fresh, has a firm tone and is incredibly soft after just one treatment.
| 45 Minutes | 1 Treatment | Course of 3 | Course of 6 |
| --- | --- | --- | --- |
| Deep hydrating facial lifting | £60 | £135 – save £45 | £240 – save £120 |
Have you got a question? Are you interested in a treatment?
Contact Forever Clinic Cheltenham today for more info or a consultation.
Pay a deposit to secure your treatment
For your convenience you can make a deposit payment to secure your booking, simply and easily through the website.