Non-surgical Neck & Chin Lift Cheltenham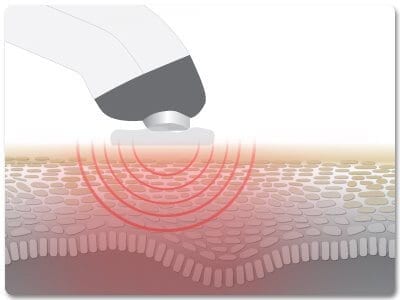 The Non-Surgical Neck and Chin Lift Treatment
Radiofrequency
The older we become the more our muscles lose their strength and grease also deposits in the body's tissue. The consequence: Fatty pockets form in the chin and neck areas and the skin begins to sag.
The Neck and chin Lifter strengthens flabby tissue and soft muscles through electrical muscle stimulation. Low frequency current pulses within the milliampere range, which are safe for humans, are guided directly to the muscles, which respond to them by contracting. When the pulse is "off" the muscles relax again. This targeted stimulation strengthens the neck and chin muscles and develops them. The skin above them therefore becomes firmer.
Facial fat, which is localised between the upper part of the subcutaneous fatty tissue and the lower part of the dermis, can also be broken down with the Neck and chin Lifter. The thermal effect of the radio frequency waves, which the Neck and chin Lifter emits with a frequency of 500 kHz, strengthens the overall metabolism of the fatty tissue and therefore promotes fat breakdown.
Radio frequency waves, which the Neck and chin Lifter emits with a frequency of 1 mHz, also cause warming of the collagen fibres in
the dermal connective tissue; this causes their protein structures to change and contract. In this way the skin above them is also made firmer.
LIPOreleaseTM active ingredient complex and its particularly tissue-firming properties in a highly effective way.
Radiofrequency is performed to achieve the following:
Improve muscle tone in lower face and neck
Lift jowls
Increase product penetration
Reduce wrinkles and eliminate fine lines
Improve facial circulation
| 20 Minutes | 1 Treatment | Course of 3 |
| --- | --- | --- |
| Non surgical neck and chin lift | £45 | £120 – save £15 |
Have you got a question? Are you interested in a treatment?
Contact Forever Clinic Cheltenham today for more info or a consultation.
Pay a deposit to secure your treatment
For your convenience you can make a deposit payment to secure your booking, simply and easily through the website.