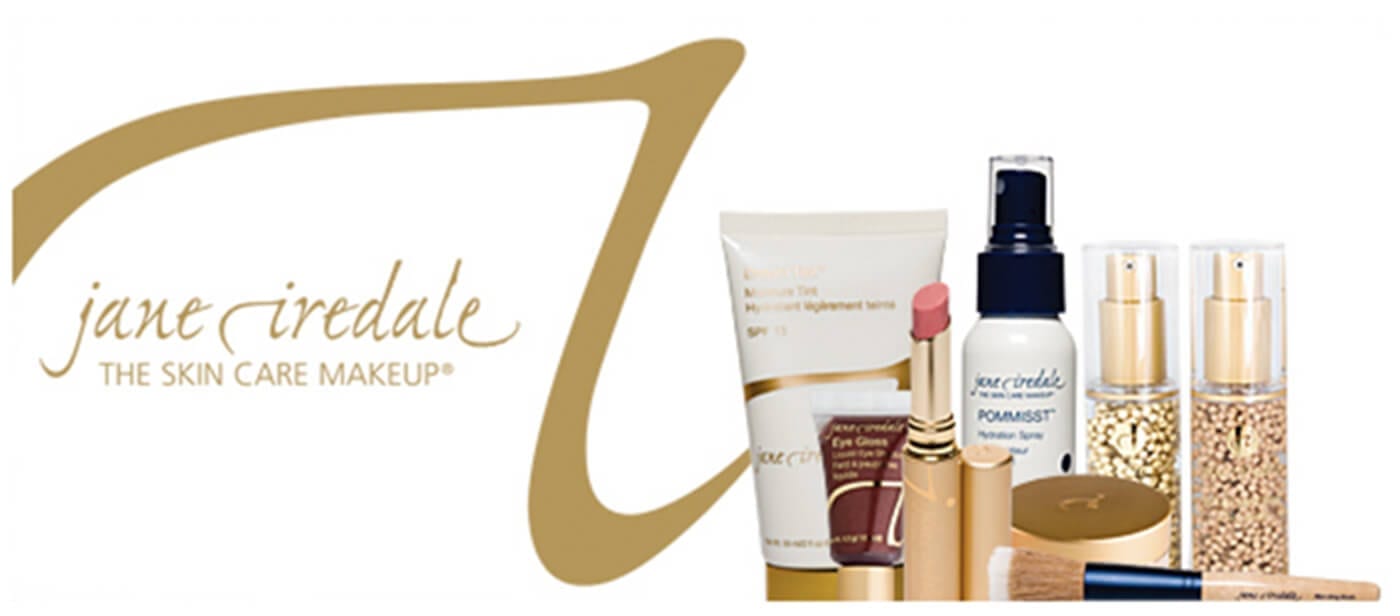 The most beautiful cosmetic you can wear is a healthy skin. That's why everything we develop is a true extension of skin care. Our makeup is not just a refinement of conventional makeup; it's a new technology. It's so effective it is recommended by plastic surgeons, dermatologists and skin care professionals.
Four-In-One
Our micronized mineral bases are concentrated pigment. (We use no fillers such as talc.) Because of this concentrated pigment, a minimum amount gives unsurpassed coverage and becomes a foundation, powder and concealer all in one. This concentrated pigment also gives high sunscreen protection without the need for synthetic ingredients.
Sun Protection
Six jane iredale products are recommended by the Skin Cancer Foundation for their protection from both UVA and UVB rays: Glow Time, PurePressed Base, Amazing Base, Dream Tint, LipDrink, and Powder-Me SPF. They are formulated with the chemical-free sunscreen actives titanium dioxide and zinc oxide. Please refer to our spf & sun exposure page for more information.
Non-Comedogenic & Oil-Free
Our makeup is non-comedogenic (doesn't block pores). Mineral particles form a protective barrier on the skin that allows it to breathe and function normally. This protective barrier also traps environmental pollutants. (We always advise taking off makeup at night in order to remove what it's collected during the day. Ugh!) Even though we know our minerals don't block pores and act as anti-inflammatories and anti-microbials, we still test all of our makeup for comedogenicity in a laboratory. This attention to detail is why we have so many testimonials from acne patients claiming an improvement in their skins since using jane iredale. The only oils we use in our formulas are in products where we want to help condition the skin – such as in our under-eye concealer and lip products.
Concentrated Pigment
The word "pigment" usually means a colored or white compound that is insoluble in a solvent. (The word "dye" generally refers to a chemical compound, most often of petroleum origin, which is soluble.) Our pigments are made from micronized minerals only. Because the minerals are concentrated pigment, they give complete coverage. A little goes a long way!
Fast, Weightless Coverage
Apply with a brush or a sponge for coverage that it would normally take three products to achieve. First-time wearers typically use too much because they are used to cosmetics with fillers, and not a lot of "pay-off." With our makeup, less is more. The result should look sheer and luminescent and feel weightless.
Minimum Allergy Risk
Allergies and sensitivities usually occur because of ingredients that cause irritation to the skin. Reactions are particularly common in skins that have been compromised in some fashion through, for example, a weakened immune system, sun damage, chemical peels, laser resurfacing, etc. Substances that most commonly cause these sensitivities are chemical preservatives, chemical dyes (usually labeled as FD&C), perfume and alcohol. Our makeup contains none of these sensitizers. In fact, zinc oxide and titanium dioxide are anti-inflammatories and may help calm the skin. All of our products have undergone sensitivity testing in an FDA-approved laboratory with no sensitivity recorded.
Anti-Irritant
We have a number of ingredients in our formulas that actively calm the skin. Two in particular are titanium dioxide and zinc oxide, both have anti-irritant properties. They not only effectively cover redness but also help to soothe it. In many of our formulas, the minerals are joined by botanicals and algae extracts that have the same effect.
Sensitizers
All our individual Material Safety Data Sheets of raw materials in our powder bases support that irritation, burning and stinging of the skin are not caused by our ingredients. Further, our processing does not result in any chemical change in the raw materials, so the reaction of the mixed ingredients remains the same as the individual ingredients. We have eliminated from our powders all perfume, chemical dyes and chemical preservatives. These are the top three sensitizers.
FD & C Dyes
When the letters FD&C precede a colour, it means that the colour has been approved by the FDA for use in foods, drugs and cosmetics. When D&C precede the colour, it signifies that it can be used only in drugs or cosmetics. FD&C dyes are derived from petroleum or historically coal tar; some are also synthetic.
Jane Iredale
Have you got a question? Are you interested in a treatment?
Contact Forever Clinic Cheltenham today for more info or a consultation.
Book Online to secure your treatment
 Secure your booking, simply and easily through the website.