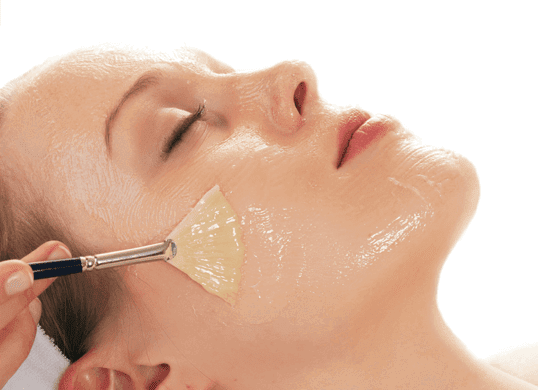 What is a Skin Peel?
A peel is a clinical treatment that can lead to visibly improved skin appearance. Peels are often categorized by their depth: light, medium and advanced. The deeper the peel, the more dramatic skin improvement can be achieved.
RegimA
RégimA is a unique, advanced, medically accepted, results driven, anti-ageing, skin rejuvenating range manufactured exclusively for the use of doctors and skin care professionals. Multiple award winning, RégimA's status is cemented as a skin care leader in the world market. Ensuring actives are used at maximum efficacy, RégimA is a cosmeceutical focusing not only on AESTHETICS but SKIN HEALTH.
Rapid Rejuvo (acid masque 22%)- light
An anti-ageing botanical complex combines plants which were selected for their synergistic and complementary activities, ensuring hydration stability, activates skin micro-circulation, helps stimulate elastin and collagen synthesis, whilst protecting against free radicals. A synthesized biomimetic version of a hydroxy acid naturally present in Royal Jelly, rapidly, significantly decreases the number of active sebaceous glands, is antibacterial, inhibits development of P. Acnes bacteria and is anti-ageing. Meadowsweet helps control oil secretion, cleverly balancing hormones within the skin, without affecting hormones in the body and providing antiseptic action. Lactic Acid combats pigmentation as well as rapidly exfoliating, smoothing, rejuvenating. Salicylic Acid unblocks congested skins as well as rejuvenating. Penetrating Pro-Vit B5 stimulates fibroblast proliferation and repair with deep moisturization.
No consultation or patch test is required with the RegimA Rapid Rejuvo peel. 
Power Peel 30%-50%- medium
Advanced peels