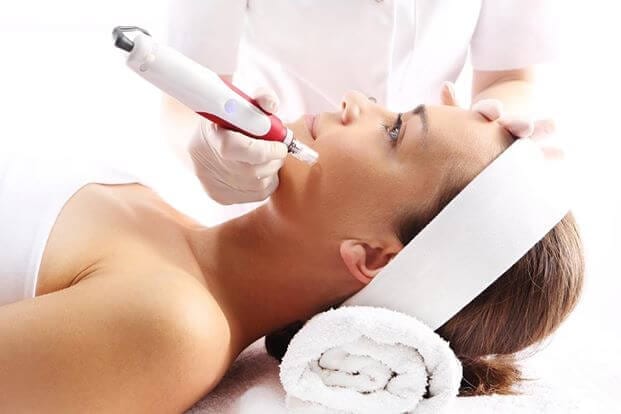 Treats the following:
Lines & Wrinkles

 

Pigmentation
Stretch marks
Scars

 

Dull skin
Large pores
Thin skin
Reduced collagen
Hair loss
How does Dermapen work?
The anti-ageing procedure involved in treatment is commonly known as Micro Skin Needling, Collagen Induction Therapy or Dermapen and is designed to trigger new collagen synthesis in the skin, leading to younger, brighter and healthier-looking skin with fewer wrinkles. As you move the device over your skin, numerous, ultra-fine micro-needles designed to penetrate through the epidermis create microscopic punctures on the skin's surface. By opening the skin in this way you not only dramatically increase the penetration of any topical product, increasing its efficacy, but you also create miniature perforations that stimulate the skin's healing mechanisms, increasing production of many important factors for healthy skin.
Great benefits of the Microneedling/ Dermapen:
Safer and more effective in piercing the skin than traditional skin needling rollers
Has a superior effect on collagen and elastin rejuvenation
Multi-speed and adjustable needle depth
Highest effectiveness in removing wrinkles
Effectively treat hard-to-reach places
Promotes scar-less healing and natural collagen reproduction
Anti-ageing procedure which helps with saggy skin
The concept of Micro Skin Needling, Collagen Induction Therapy or Dermapen for anti-ageing is based on the skin's natural ability to repair itself whenever it encounters physical damage, such as cuts, burns and other abrasions. Immediately after an injury occurs to the skin, our body reuses the damaged collagen and elastin fibres as well as other damaged skin components to produce new ones. Micro Skin Needling allows for controlled induction of the skin's self repair mechanism by creating micro-injuries in the skin which trigger new collagen synthesis, yet does not pose the risk of permanent scarring.
What can it do for me?
Microneedling enhances the penetration of active ingredients from your topical creams and serums, leading to a massive increase in their efficacy. Microneedling in conjunction with  cosmeceuticals stimulates new collagen production, thereby leading to a visible reduction of wrinkles and scars, as well as increase in skin firmness. Thickening of the skin caused by regular use of the Skin Needling device significantly reduces the visibility of broken capillaries as well as uneven pigmentation. Expect to see a visible improvement in skin appearance after just one month of regular use of the device.
What happens post treatment?
When our practitioner will use Microneedling pen/ Dermapen, procedure will cause no or only small marks, and the marks will fade in just a few hours. Microneedling/ Dermapen treatments may cause a flush to your skin that will fade in a few hours, but will leave no long-lasting redness.
Is Micro Skin Needling/ Dermapen safe?
Micro Skin Needling does not involve injections and therefore allergic reactions and side-effects are unlikely. It is minimally invasive, involves minimal or no downtime, rapid healing and requires simple aftercare. Microneedling devices used at Forever Clinic are the latest skin rejuvenation techniques to help restore a healthy, flawless and youthful appearance to the skin.
Safe, simple and Effective Anti-Ageing Treatment
Unsightly scars appear less obvious Helps to smooth away wrinkles, line, folds and skin ageing related concerns Dramatically increased absorption of active ingredients Efficacy of active skincare products maximised.
Microneedling works through two modes of action:
The needles penetrate through the skin to provide micro-channels to maximise the absorption of the topically applied skincare product The micro-channels induce independent stimulation of new collagen and elastin synthesis, resulting from the skin's natural healing response. Ultimately, skin strength, structure and resilience.
Similar results to Laser resurfacing, Fraxel and chemical peels with a broad range of advantages and benefits:
Suitable for all skin types
Does not induce skin sensitivity to UV light
Personal models are painless and can be used at home Does not cause skin damage (no ablation/removal of the epidermis)
Can be used on the face, neck, decollete and any other parts of the body requiring treatment. Can be used on thin skin formerly treated with chemical peels and laser
Does not pose a risk of permanent skin discolouration
Enhances Iontophoresis and Sonophoresis treatments
Cost effective treatment alternative
Short or no healing time
Microneedling for hair loss:
Stimulate hair growth, slow hair loss and improve hair quality with CLINICCARE's Hair Energy Mesotherapy cocktail.
The Hair Energy mesotherapy cocktail has a unique combination of active ingredients specially designed to maintain scalp vitality and act on follicle dysfunctions in order to achieve good anti-hair loss results and improve hair quality.
It combines antioxidant and anti-inflammatory effects with a hair growth stimulating effect perfect for thinning or balding hair. 
Have you got a question? Are you interested in a treatment?
Contact Forever Clinic Cheltenham today for more info or a consultation.
Book Online to secure your treatment
 Secure your booking, simply and easily through the website.