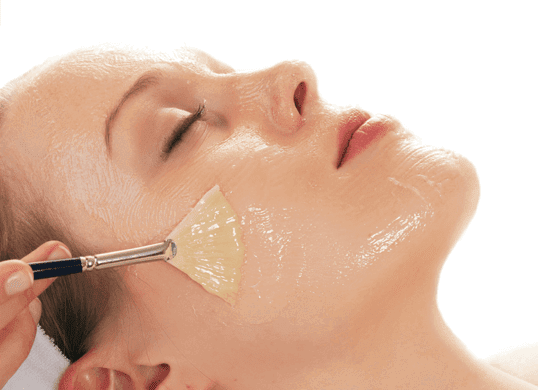 What is a Skin Peel?
A peel is a clinical treatment that can lead to visibly improved skin appearance. Peels are often categorized by their depth: superficial, medium and deep. The deeper the peel, the more dramatic skin improvement can be achieved.
At Forever Clinic we use Medik8, Priori and RegimA skin peels.
Medik8 Superficial Chemical Peels
Medik8 superficial peels are one of the most popular non-invasive cosmetic procedures performed to rejuvenate and revitalize the appearance of the skin. With little down time. Medik8 chemical peels offer a results-driven therapy for a wide array of skin conditions, including fine lines and wrinkles, acne, acne scarring, hyperpigmentation, dry or flaky skin and many more.
To Achieve Maximum results, a course of 6 treatments is recommended.
Please note all new skin peel clients must book in for a free consultation and patch test prior to booking a skin peel. 
Universal AHA™-

light
A mild, light peel suitable for all, ideal for those looking to start their peel journey or looking for maintenance after a course.
Agepeel fine lines and wrinkles 
-medium
This is an effective combination of acids to reduce fine lines and wrinkles and fade away imperfections leaving skin smooth and renewed, when skin cells are activated, they can produce more collagen and elastin. Stimulation from a chemical peel can increase the production of many key elements that make up a youthful looking complexion.
WhitePeel – Hyperpigmentation, Dark Spots & Sun damage – 
medium
This peel is especially designed to target sun damage and hyperpigmentation problems, Whitepeel penetrates the skin's pigment cells (melanocytes) to gently and effectively educe the appearance of unwanted discoloration, for a more even skin tone.
Betapeel – Acne and Light Acne Scarring- medium 
Betapeel Rapidly brings Acne under control and dramatically reduces the risk of future outbreaks. Betapeel counteracts all three fronts of acne by targeting each assault individually : Blocked pores, comedones & inflammation, for a smoother clearer skin tone.
EyePeel – Anti-Aging Peel
With fewer sebaceous glands than the rest of the face, the eye area is the first place to show initial signs of ageing, with a reduction in tone and plumpness occurring as early as your mid-twenties. The Medik8 eyePeel offers an ultra-gentle yet effective solution to treat these skin areas through enhanced cell turnover and regeneration. Carefully selected gentle AHAs that ensure the peel performs the requisite exfoliation, providing even penetration to reduce inflammation and irritation. L-Lactic acid and Lactobionic acid also function to hydrate the skin, alleviating excessive dryness and peeling.
For Clients looking for maximum results and minimum recovery and downtime.
Mono Glycolic TR™ 50% – 

advanced
A mono (single active chemical) high strength peel containing 50% glycolic acid, developed using Medik8's patented time release formation.  Mono Glycolic TR is used for ageing, scarring and photo damaged skin. 
Priori Peels
Formulated with a clear understanding of skin biology and the changes influenced by physical well-being; environment and daily variables, all PRIORI® products feature multi-layered ingredient technology that provides the perfect balance between essential skin nutrients and advanced actives.
Multi Layer Peel Gel LCA Fx181-180 –
medium
A multi-layer peel gel, utilizing 3 AHA's and BHA Salicylic Acid to exfoliate and renew the skins' surface. Improves skin texture and cell turnover whilst hydrating and volumizing the skin for multi-layer skin improvement.
Superceutical Peel Gel Q+SOD Fx280 –
advanced
Superceutical Peel Gel provides advanced hydration, renewal and illuminating results to the skin. Providing exactly what is needed in real-time this pure lactic acid peel improves the skins hyaluronic response and also boosts collagen.
RegimA
RégimA is a unique, advanced, medically accepted, results driven, anti-ageing, skin rejuvenating range manufactured exclusively for the use of doctors and skin care professionals. Multiple award winning, RégimA's status is cemented as a skin care leader in the world market. Ensuring actives are used at maximum efficacy, RégimA is a cosmeceutical focusing not only on AESTHETICS but SKIN HEALTH.
Rapid Rejuvo- acid masque –
light
An anti-ageing botanical complex combines plants which were selected for their synergistic and complementary activities, ensuring hydration stability, activates skin micro-circulation, helps stimulate elastin and collagen synthesis, whilst protecting against free radicals.
A synthesized biomimetic version of a hydroxy acid naturally present in Royal Jelly, rapidly, significantly decreases the number of active sebaceous glands, is antibacterial, inhibits development of P. Acnes bacteria and is anti-ageing.
Meadowsweet helps control oil secretion, cleverly balancing hormones within the skin, without affecting hormones in the body and providing antiseptic action.
Lactic Acid combats pigmentation as well as rapidly exfoliating, smoothing, rejuvenating. Salicylic Acid unblocks congested skins as well as rejuvenating. Penetrating Pro-Vit B5 stimulates fibroblast proliferation and repair with deep moisturization.
No consultation or patch test is required with the RegimA Rapid Rejuvo peel.